As Congressional Investigations Wear On,
Some Eye An End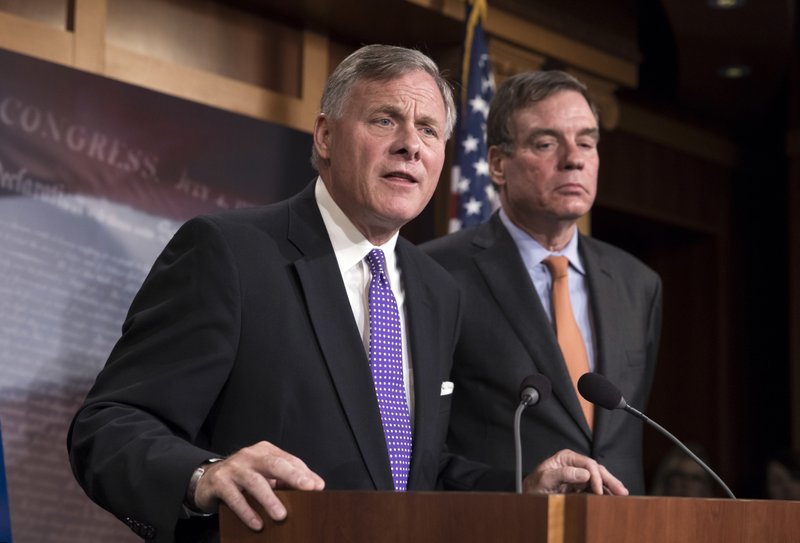 Senate Select Committee on Intelligence Chairman Richard Burr, R-N.C., left, and Vice Chairman Mark Warner, D-Va.,
update reporters on the status of their inquiry into Russian interference in the 2016 U.S. elections.
(AP Photo/J. Scott Applewhite, File)
By MARY CLARE JALONICK - Today
WASHINGTON
(AP) — As congressional investigations into Russian interference in the 2016 elections wear on in the Capitol, some lawmakers are starting to wonder when — and how — the probes will end.
After months of clandestine interviews and a few public, partisan committee clashes, some Republicans on the House intelligence panel have been pushing for their probe to wrap up by the end of the year. And Senate Intelligence Committee Chairman Richard Burr, R-N.C., is signaling he wants his more bipartisan investigation to finish in the next several months, before the 2018 elections get into full swing and the Russians have a chance to again interfere.
It's still unclear whether the congressional committees looking into the interference will come to firm conclusions about whether President Donald Trump's campaign was involved, or if they have found any direct evidence of any collaboration with Russia. Those involved say it's too early to know if they will be able to issue bipartisan reports, and whether those reports will have firm conclusions or just be a series of findings.
With no ability to do criminal investigations and difficulty in getting some witnesses to appear, the panels could leave some of the more controversial assessments to special counsel Robert Mueller, who is also investigating the meddling and the question of whether Trump's campaign was involved. Mueller has the ability to prosecute, and Congress must refer any criminal findings to him.
"I think there are lots of Republicans who just want this to go away, and I think the White House very much wants it to go away," Sen. Sheldon Whitehouse, D-R.I., said Tuesday. "So I don't think it's necessarily the easiest call in the world for our Republican colleagues."
Trump made his views clear, again, at a Monday news conference, saying "the whole Russian thing" is an excuse for Democrats who lost the presidential election.
"So there has been absolutely no collusion," Trump said. "It's been stated that they have no collusion. They ought to get to the end of it, because I think the American public is sick of it."
In the Senate, Burr has worked closely with the top Democrat on the intelligence panel, Virginia Sen. Mark Warner. Burr said Tuesday that the committee "needs to have some conclusion in time to get ready for the 2018 elections ... that gives you a window of somewhere between the end of the year and maybe February."
Burr said the panel's timeline is unrelated to Mueller's probe.
"They're on a criminal investigation and we're looking at Russian influence in the election," Burr said, adding that he hopes his probe will be done before Mueller's.
At a news conference with Warner on Oct. 4, Burr said the issue of collusion is "still open." He has said repeatedly that the committee has continued to find new threads, and that a firm timeline isn't possible. He said the committee has 25 interviews this month, including two public hearings related to the investigation.
"We've still got a fairly long list of people to see, and it's more of a mathematical equation now," Burr said.
The head of the House intelligence probe, Republican Rep. Mike Conaway of Texas, has similarly said the committee is continuing to follow leads and he has declined to set out a timeline. He took over the investigation after the GOP chairman of the intelligence committee, California Rep. Devin Nunes, stepped back amid criticism that he was too close to Trump's White House.
Some other Republicans on the House panel have questioned how long it should go on.
"It's getting old," said Republican Rep. Tom Rooney of Florida, a member of the intelligence panel. He said the committee should not "prolong the investigation for the sake of prolonging it. Those days are going to come to an end here soon."
Rooney said the panel should stick to witnesses that are directly related to the meddling and to the intelligence community, which is the committee's jurisdiction. He said once the committee has interviewed enough pertinent witnesses he'd recommend to Conaway and House Speaker Ryan that the panel write a final report and conclude the probe.
Democrats on the House intelligence committee are trying to head off calls to end the investigations. California Rep. Adam Schiff, the top Democrat on the panel, said in a Washington Post op-ed over the weekend that, unlike with Mueller's probe, the point of the congressional investigations is to "tell the American people what happened or prescribe remedies."
Congress also could serve as a conduit for some of Mueller's findings, if he declines to issue his own report. But it's unclear whether the Justice Department will share that information with Capitol Hill.
Connecticut Sen. Richard Blumenthal, a Democratic member of the Senate Judiciary Committee, believes that it's too soon to wrap up. The Judiciary panel is also doing an investigation, but its probe has moved slowly amid negotiations over witnesses.
"I feel the pressure to move forward at a better pace, but not necessarily to finish," Blumenthal said, adding: "The Russians are going to do it again ... unless they pay a price they will heighten their interference in our elections."
SOURCE